What would the season of advent look like without the smell of freshly baked biscuits and christmas decoration? This is simply included to make the time until christmas eve to himself as comfortably as it only works. When we were childs, our Mom spend hours baking kilos of biscuits with us. We also tinker around to make our own christmas decorations.
Although after that the house looked like a horde of elephants run around, but we had enormously fun and have spent much time together. Ans until today nothing has changed! We still drive home to bake biscuits with mom and have new ideas of making things with one's hands every year.
If you also prefer to do things on your own, have a look at these five craft ideas for christmas. We have found five ideas of making things with one's hands for you so that your four walls also get a christmassy touch. All ideas are ideally to make others happy. Perfect little christmas gifts.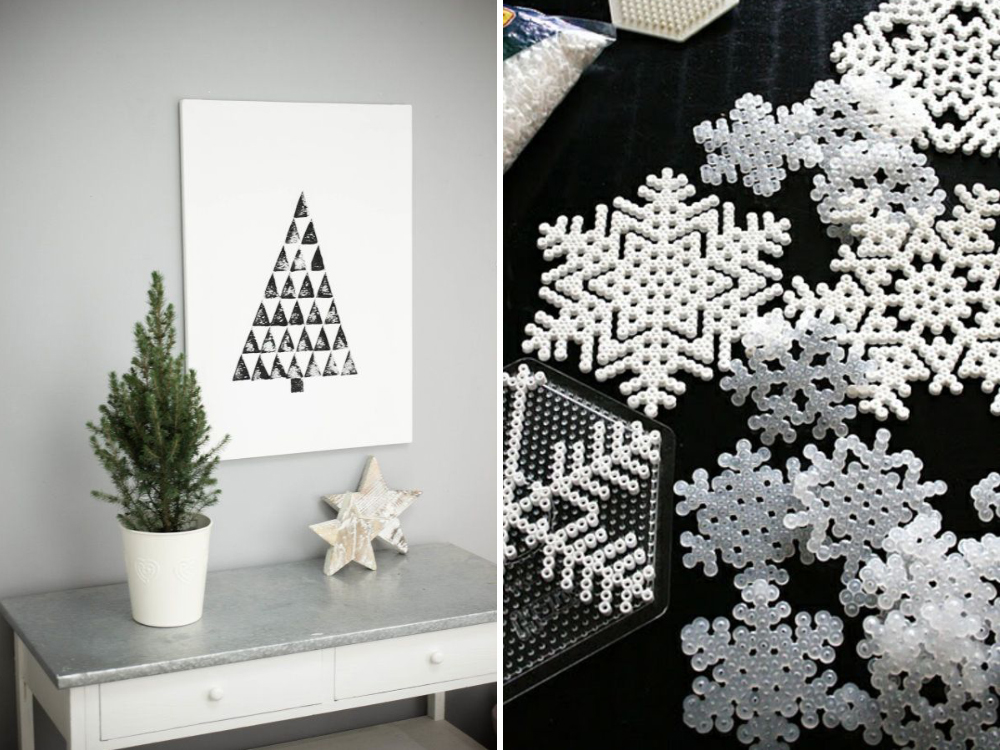 1. Lets geht creative with potato stamps like in primary school.
2. Do you still know the perler beads? How about window decoration in the form of snowflakes?
3. A bit more tricky are these wooden plates with snowflake paintings. You need a dry piece of wood, a saw, a drill, sandpaper, cords or rope and white colour. You saw the wood in approx. 1-2 cm thick plates if possible (the men also help you here in the DIY shop)! Made a hole for the rope or the cord and start with the colour. They are also wonderfully as a Christmas tree decoration.
4. What about a diy snowglobe. You need a glass jar or waste glass with lid, figures or little little tree (get it in a toy shop or model making shop) and fine artificial snow. Stick the tree or the figure into the lid and fill up a little artificial snow into the glass.  Lock the glass with the lid again and you have a pretty gift for your friends.
5. No panic if you forget that today is the first advent. The forest is open on Sundays and I am sure that you have candles somewhere at home! Pick up a litte piece of wood and get together four candles. Kristina will tell what to do on bonnyundkleid!